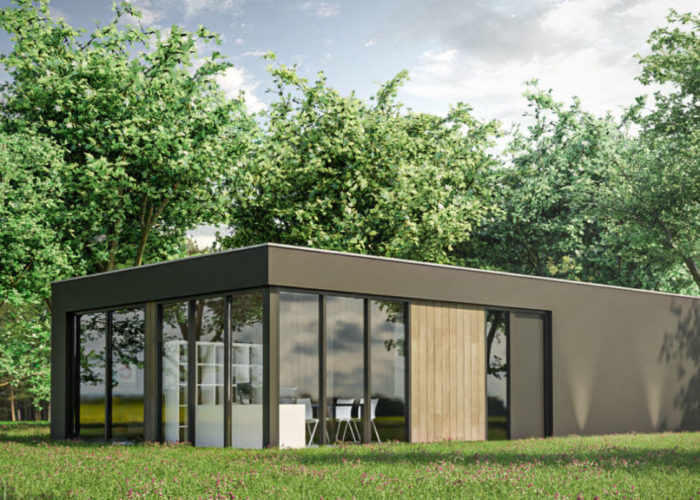 Prefab Design B.V. is leverancier van modulaire en prefab bouwwerken zoals recreatiewoning, tiny house, zorgwoning, tuinkantoor, aanbouw, uitbouw, opbouw en volledige woningbouw.
Wij ontwikkelen en leveren prefab oplossingen voor bouw en renovatie aan uiteenlopende particuliere en zakelijke projecten waarbij innovatie en duurzaamheid voorop staat.

Prefab Design B.V. produceert alle modulaire en prefab bouwwerken in Apeldoorn. Wij leveren door heel Europa.
Onze werkwijze.
Offertefase
Binnen 48 uur delen wij een offerte
Uitnodiging in onze showroom voor materialiseren bouwwerk
Overeenkomst van opdracht
Binnen 20 weken leveren wij alle kant en klare bouwwerken en/of starten wij deze
bouwwerkzaamheden op locatie (maximale duur is 5 weken).
Samen met een van onze adviseurs bespreekt u uw wensen waarna onze ontwerpers uw idee vertalen naar een standaard of een maatwerk ontwerp. Formaten, indelingen, materialen, bijzondere opties: u kunt echt alle kanten op. Onze onderhoudsarme (semi) permanente woningen/units maken wij van duurzame, circulaire en hoogwaardige materialen.

Door de HR++ beglazing (in Reynaers aluminium en Aluplast kunststof kozijnen) en de dubbel geïsoleerde wanden en vloeren zijn de woningen/units perfect geïsoleerd (A++). Wij bieden u een brede keuze aan kwalitatieve materialen waarmee wij aan al uw wensen kunnen voldoen.
In Nederland zijn er landelijke regels voor vergunning vrij bouwen, maar uw lokale bestemmingsplan maakt in sommige gevallen meer mogelijk dan alleen de standaard landelijke regels voor vergunningsvrij bouwen. Dit houdt in dat bij het plaatsen van uw toekomstige buitenverblijf, poolhouse, mantelzorgwoning of tuinkantoor/tuinkantoor, helemaal geen vergunning nodig is. Wij ontzorgen u in dit traject en onderzoeken en bespreken met u welke mogelijkheden er voor u zijn voor vergunning vrij bouwen.
Al onze bouwwerken (tiny house, recreatiewoning, zorgwoning, tuinkantoor, tuinwoning, prefab villa) is maatwerk. Wij verkopen geen kant en klare producten. Sinds heden hebben wij het kant en klare aanbod ter inspiratie met inzicht in de prijs/product verhouding toegevoegd op onze website.